Get Up-to-Date with Top Remodeling Trends of 2014
Dec 26, 2014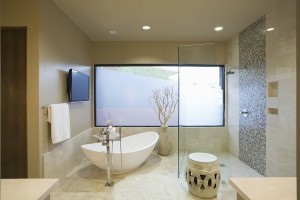 Picture by Realtor.com
Whether you're the trendy type or not, it's always interesting to learn what the "new look" is. Realtor.com outlined some information from Hanley Wood suggesting that home remodeling is back on the rise.
"According to a 2013 Hanley Wood survey, remodeling sales were up 10 percent compared to 2012, and 45 percent of remodelers surveyed expected another 10 percent growth in 2014."
There have been a few unmistakable remodeling trends throughout 2014:
Modern Kitchens
The white, pristine, and futuristic look has definitely been in demand this year. This is a big difference compared to the previous trend of warm and rustic. Sleek and glossy is in with simple countertops and appliances that blend in.
"According to data compiled by Hanley Wood and Remodeling Magazine, 61 percent of remodelers surveyed expect to complete kitchen remodels in 2014, more than any other room in the house. And, those remodels are expected to follow a new trend."
Brass Accents
Brass hardware in kitchens and bathrooms as well as on doors and lighting has been given a new look; from highly polished and bright to dull, hammered, and rustic. The look has been featured in many home-design conventions.
Updated Bathrooms
Similar to new kitchens, the new bathrooms are quite modern, bringing us as close to the resort spa as possible. Amenities include multiple shower heads, heated floors, jetted bathtubs, and massive walk-in showers. Glass tiles with cooler, neutral colors have replaced the claw-foot vintage vibe.
Vibrant Colors
It's all about the accent wall. Remodeling is including a lot of thought on color…bold color. The names of these colors are as bright and juicy as they are. 2014 has found ways to accommodate these daring colors without allowing them to overwhelm a space by balancing them with modern neutrals.
Sustainable Materials
Remodeling is no exception to the "green movement." Craig Webb, editor-in-chief of Remodeling Magazine explained that "Energy efficiency is becoming an assumption, not an add-on." Renewable materials and energy-efficient appliances are a new standard.
Cornerstone Builders of Southwest Florida has the current knowledge to make your remodeling project relevant and the experience to make it work for you. Contact us here today to take the first step of your transformation!