The Hottest Tile Trends for Bathroom Remodeling
Dec 29, 2014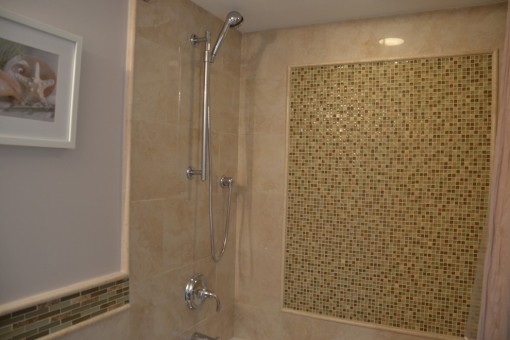 There are many new trends blooming in the world of remodeling when it comes to bathroom tiles. Some of these textiles have rarely been seen in a bathroom context. We found a great article by Douglas Trattner on HGTV.com that outlines the hottest new materials to inspire you when remodeling your bathroom.
 
Glass
Glass tiles can add depth and can be used for many applications including shower walls, backsplashes, and even to accent floors. Be aware that textiles like natural stone or ceramic simply cannot match the luminescence, shine, or sparkle that glass offers.
A common misconception is that glass has to be extra shiny; there are options. Just like paint, glass tiles can be glossy or flat. Colorful or very shiny glass tiles can be used here and there to add highlights to a classic style. If you are remodeling to achieve a more luxurious look, add more glass tiles or even cover an entire surface/wall. If you are environment-conscious when remodeling, glass tiles are a great choice as they are often made from recycled glass.
Metal
Metal is definitely a newer trend in remodeling bathroom tiles but it works for both contemporary and traditional designs. Small metal tiles give more freedom than the former trend of big copper and stainless steel sheets.
Stainless steel is practical as far as longevity and comes in different finishes like "satin" and "brushed". It gives a more modern look while bronze or copper lend to a more timeless and traditional atmosphere.
Faux Wood
Porcelain is one textile that can help you add a rustic look to your bathroom when remodeling by looking just like hardwood while being easier to clean. It isn't a great idea to put real wood in a moist environment.
Window "Picture Frame"Size
Play with the size of tiles no matter what material. Smaller tiles and intricate patterns can match whatever style you're going for, as long as they are the right color, material, and finish.
The team at Cornerstone Builders of Southwest Florida can help you choose which bathroom tiles fit your style. Contact us here today to start your bathroom transformation!