Houzz Projects to Inspire Your Remodel
May 12, 2018
Projects – inspiration – remodeling – home remodel – blog – kitchen remodel – Cornerstone – Naples, Fort Myers, Marco Island
Making the decision to redesign your home is no small feat, but the outcome is well-worth your consideration. Remodeling your residence can increase its value in the market, reduce maintenance costs, improve your day-to-day routine, and make your home life more enjoyable overall.
If you've considered altering your home, let's chat. What is your ultimate dream home? Does it have more open space, a large gathering area for the family, a more modern appeal, or something else? With our vast team of designers and craftsmen, we are experts in creating exceptional home designs for our customers.
Even with just minor upgrades, we can change the look and feel of your kitchen, bath, closet, living room and more. Get inspired by some of our projects below, showing the difference the Cornerstone touch can make. To explore more project photos, please visit our Houzz profile.
Small Changes Make Big Visual Impact
Before and after a Cornerstone Builders kitchen remodel: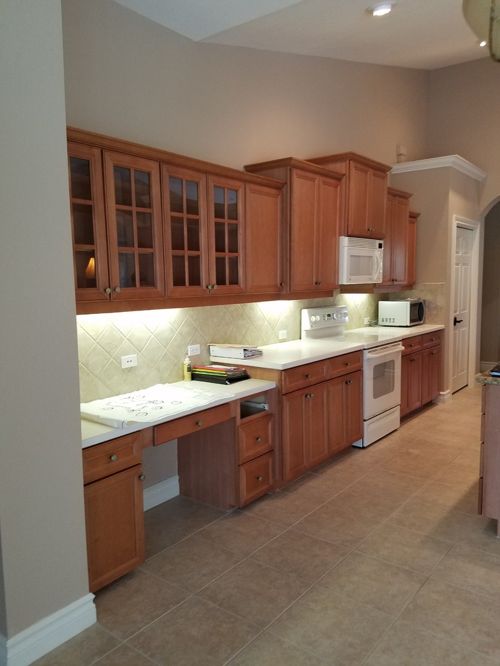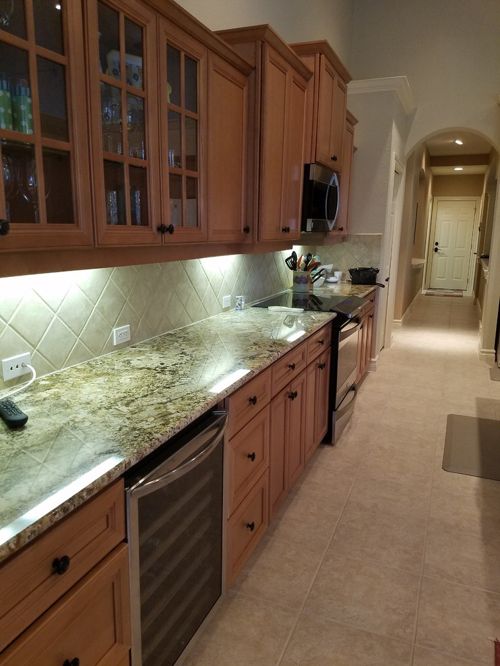 The natural beauty of the wood cabinets was untouched for this remodel, though we upgraded the hardware to match our customer's new appliances. For this kitchen upgrade, we installed beautifully unique custom granite countertops which instantly brought a more modernized look to this home. Gone are the white countertops that contrasted with the cabinetry. The countertops' hues of browns, creams, and nudes complement the cabinets to make the kitchen's colors "pop". The addition of the wine cooler was an ideal way to better utilize the empty space, making this the perfect kitchen for hosting guests and gathering.
DESIGN TIP: Small changes – such as a new backsplash or countertop swap – can drastically alter the kitchen. Complementary colors play a role in this, so talk to a designer for expert advice.
Match Your Home to Your Lifestyle
Before and after a Cornerstone Builders remodel: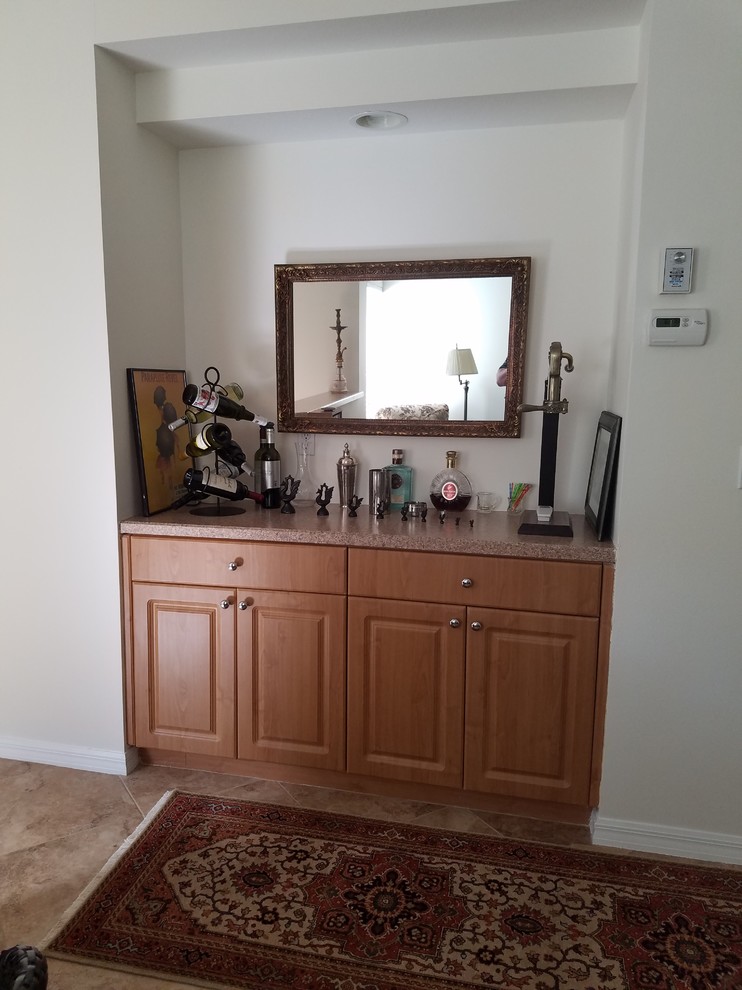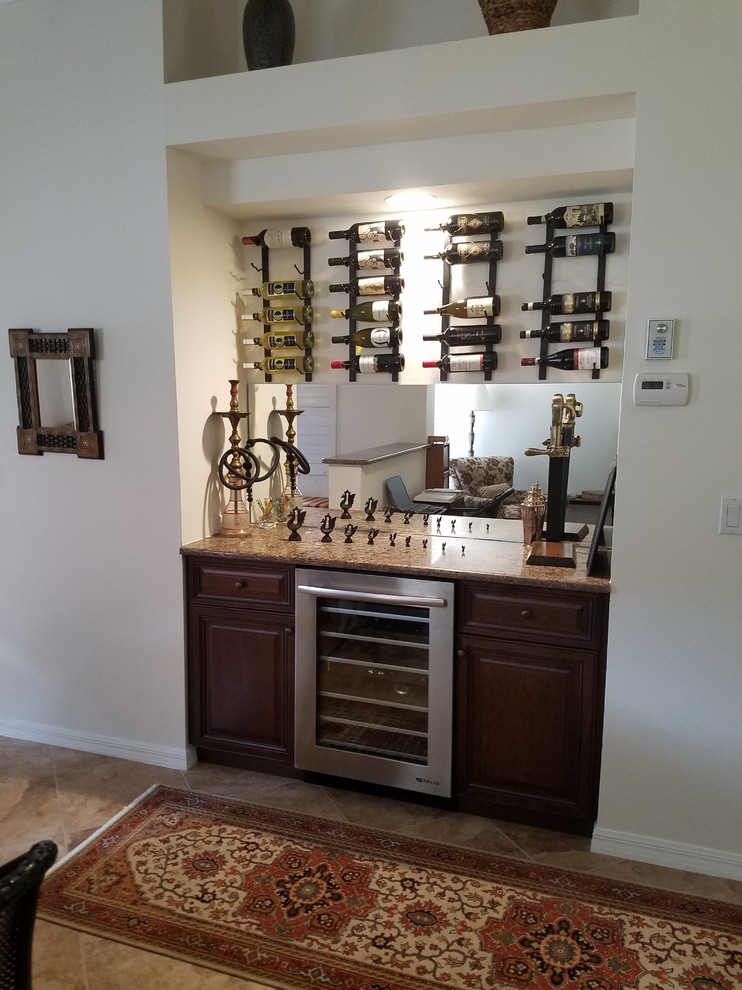 What a transformation! We aren't limited to just kitchens and bathrooms – we excel in home renovations, too. We recreated this bar area by updating several features (and adding new ones). First, our team custom created a new set of cabinets to replace the standard, light brown doors. The vibrant, rich dark brown cabinet doors were added and were accompanied by a tasteful new countertop sized perfectly for the space.
To minimize counter clutter, we also added a stainless steel wine cooler right in the center of the bar. Wine enthusiasts would love the addition of the hanging bottle rack, which extends the space and efficiently uses the bar's height. Finally, we gave the bar more depth by adding a mirror along the back wall.
DESIGN TIP: Have a cramped space? Add depth by incorporating a large mirror. The reflection in the mirror can often make your space seem larger than it is (and it adds visual appeal).
Go BOLD With Color
After a Cornerstone Builders kitchen remodel: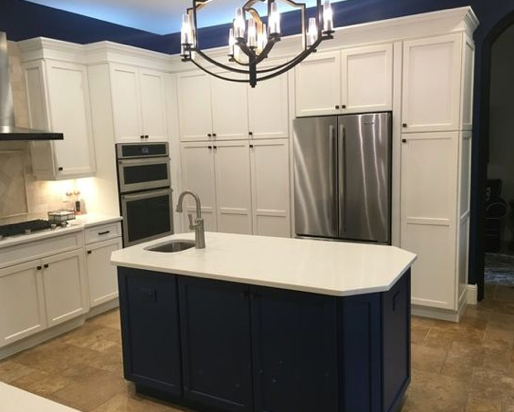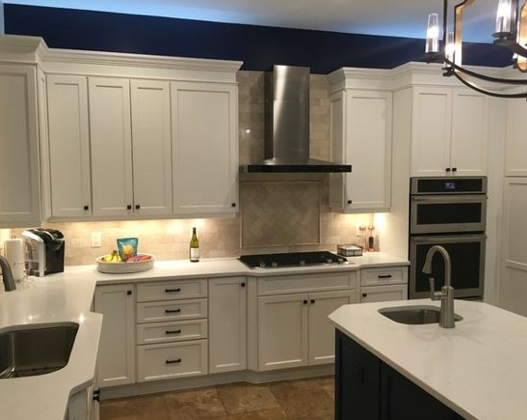 This unique, nautical kitchen remodel project is breathtaking. The white cabinetry and countertops offer a contrast to the navy blue hue along the walls and island, as well as the stainless steel appliances and hardware. While some stay away from white – considering it boring or old-fashioned – we consider the look as stylish and on trend. The contrast makes for a clean, chic, and timeless kitchen that is sure to spark conversation.
With its wine cooler incorporated on the island and its stainless steel double oven, this kitchen is both practical and beautiful with a modern edge.
DESIGN TIP: You could go for the ordinary, but why not express your personality through your home? If you're known to be bubbly and bright, allow your surroundings to match (and extend) your vibrant spirit.
We can create the home of your dreams, no matter what style suits you best. We proudly offer complimentary in-home consultations and would be glad to help you get the process started. Contact us today to begin creating the home you've always wanted.
See more project photos on Houzz: bit.ly/CornerstoneBuildersOnHouzz