Inspiration for Your Kitchen; Take the Restaurant Home
Feb 11, 2015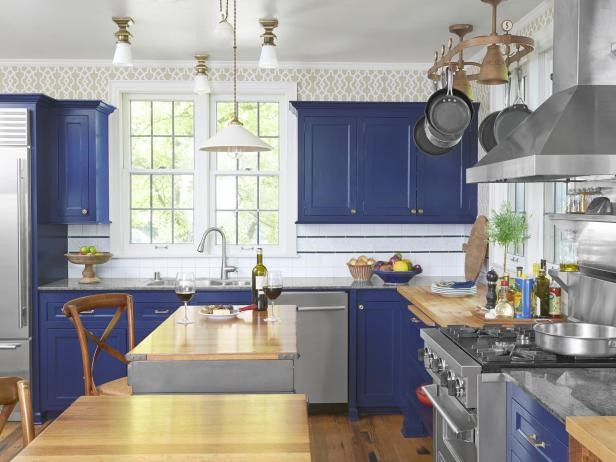 Who says you can't take it with you when you go home from the restaurant. We'd like to share the inspiration we found on HGTV Magazine. Kris O'Meara of West Bend, WI based her kitchen remodel off of a mixture of her favorite New York City French bistro, Balthazar, and a cozy, dimly lit restaurant in Milwaukee.
Finding her kitchen remodel inspiration from Pinterest and magazine clippings, she called on a local expert to make her dream kitchen a reality. She now has trouble getting her family out of the kitchen!
Let's inspect the many elements that you could consider in your own kitchen remodel:
Mixed Lighting
In true restaurant-style, every light has a dimmer. The lights vary from small flush-mount fixtures to European hanging pendants.
High-Tops
The custom bar-height tables are made from reclaimed wine barrels and iron. Always think of functionality in your kitchen remodel. These high-tops can be pushed together to create a long buffet for holidays.
Blue Cabinets
Don't be afraid of color! This kitchen remodel achieved a dining-club feel with this deep blue and brass knobs and pulls.
Hanging Storage
Maximize storage space with a hanging pot rack. Large pots can be stashed under Kris' cabinets on open shelves for easy access. Accessibility is key in a kitchen remodel.
Backsplash
Custom-made of stainless steel, this backsplash really brings home the restaurant idea. And we love the matching spice shelves.
Tough Prep Counters
Between the gray granite you can see maple chopping block counters for practical wear and tear.
Wallpaper
Here's something you don't always see in a kitchen; the pattern makes the kitchen feel more intimate.
Mini Television
Inspired by the cozy wooden bar in Milwaukee, Kris added a small flat-screen to her shelf of cookbooks.
Art
A kitchen remodel does not have to be all business. Add some flare and inspiration.
Realize your dream kitchen with Cornerstone Builders of Southwest Florida. Contact us here today!