Inspiration for Your Kitchen Remodel; the New 170-Year-Old Kitchen
Feb 12, 2015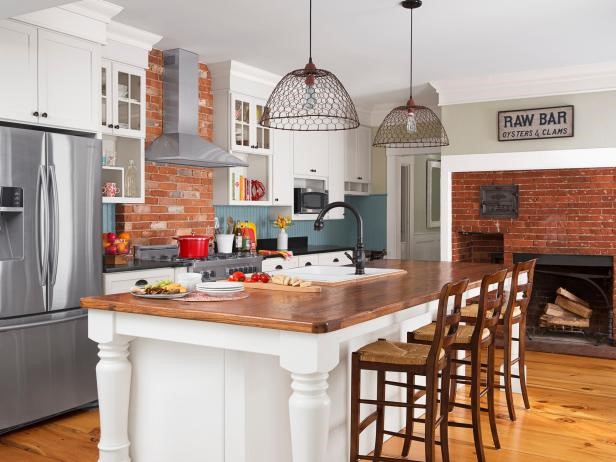 Talk about thinking outside the box. Get inspired for your kitchen remodel by taking a look at this perfect example of mixing the old with the new that we found on HGTV Magazine.
Anya and Michael Brunnick of Newburyport, MA were living in an 1845 Greek Revival home with some 1990s renovations and a cramped kitchen. The pair love to entertain in their home and were looking for a kitchen remodel that wouldn't compromise the integrity of their 19th century gem.
They called upon Mat Cummings, an architect focused on preservation, to help with their kitchen remodel. The team created a rustic space that maintains its historic charm while offering modern convenience.
Lighting
Vintage was of course a common theme in this kitchen remodel. The chicken wire pendants have a bronzy finish to play off of the tones in the dark wood knots of the floor and their weave allows small beams to shine through in all directions.
Backsplash
A kitchen remodel DIY star, Michael repurposed salvaged bricks into veneers for a backsplash behind their stove. It looks so much like an old chimney that it's hard to tell that this was part of the remodel at all. And it serves the purpose of hiding a protruding drainpipe.
Island
Guests usually gather around the island topped with reclaimed black oak. You can tell this team did their homework for their kitchen remodel layout; cleaning up after entertaining is made easy by their deep farmer's sink and dishwasher located right next to the island.
Counters and Cabinets
Their granite countertops are textured and unpolished, perfect for a kitchen remodel that's focused on longevity. Notice a mixture of different styles of cabinets, adding another fresh element to balance the traditional historic details.
Fireplace
What was a necessity in the kitchen when the house was built is now used for ambiance. They now use the original baking oven with a cast-iron door as storage for doggy treats.
Floors
In 1845, the pumpkin pine floorboards seen in the above picture were the subfloors, hidden under maple hardwood.
Dining Area
If natural light intrigues you, consider allowing your kitchen to be flooded by it; incorporate walls of windows in your kitchen remodel plans.
Stenciled Floor
Michael sanded some old floor boards, stenciled over it with rosettes and fleurs-de-lis patterns, and sanded again for an antique look.
Get creative with Cornerstone Builders of Southwest Florida. Contact us here today!