Is Remodeling My Kitchen Worth the Hassle?
Aug 23, 2016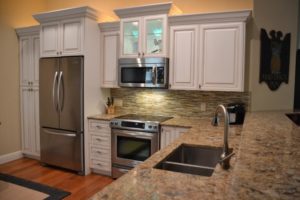 A kitchen is one of the most important areas of any home. If your kitchen is poorly designed or has become outdated, it may be time to think about remodeling it to something that is better suited to you and your family's needs. A kitchen remodel can change the feel of a whole house but remodeling can be frustrating and expensive.
Cost is always an important factor as high-end kitchen remodels can cost as much as $100,000. There are many areas that a homeowner can save money such as repainting cabinets instead of having them replaced. Doing some of the work yourself is also a great way to save money. Understanding the pros and cons of remodeling is important before you start with your kitchen remodel.
The pros of remodeling your kitchen
By remodeling an old, worn out kitchen, you are able to achieve a modern look that will make the neighbors jealous. Replacing ugly counters with something that you can be proud of is a major benefit of remodeling.
Resale value is another aspect of remodeling that is seen as a positive. Having an updated kitchen can attract potential buyers to your home, even during slower times in the real estate market. A new, modern kitchen is high on potential buyer's list.
A kitchen remodel has one of the highest returns on investments and money spent there is not going to be wasted as long as it fits in with the neighborhood. You are able to recoup around 80% of your initial investment into a kitchen remodel.
The cons of remodeling your kitchen
While you are able to get most of your investment into a kitchen remodeling project back, if done correctly, it is still the most expensive room in the house to remodel. Replacing large appliances, fitting new cabinets, updating the flooring and countertops can quickly make a budget burst at the seams.
A remodeling project done in the kitchen can be very disruptive to your life. It is often time consuming and not being able to make use of it for extended periods can be difficult to deal with. A project could take months to complete and in that time, the kitchen will mostly be unusable.
While there are pros and cons to deciding whether you should remodel your kitchen, you have to live with it at the end of the day. If you feel it is time, speak to professionals that can help you turn an old kitchen into a sparkling marvel.