What the Future of Kitchens Look Like
Aug 23, 2016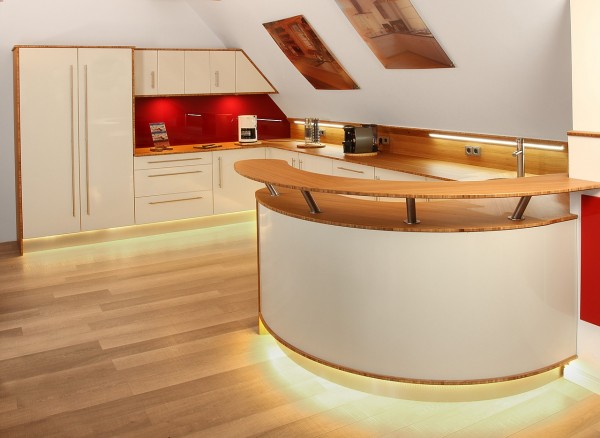 New kitchen trends are showcased at exhibition shows across the U.S. for many avid kitchen designers to attend. Every year, exciting new ideas and appliances are revealed, shaping the future of kitchen possibilities. At a recent Kitchen and Bath Industry Show, several new products were showcased centered on convenience-meets-multifunction, high-tech, earth-friendly and healthy food preparation. The best has been collected here.
Clever washing
Several new washers were shown that can optimize heating cycles to better use electricity. The high-tech washers are able to use eco-sensors to adjust the temperature based on the amount of water left, optimizing drying.
Eco-friendly
For years, eco-friendly products and ideas have been a driving force, especially in the kitchen. With products such as sustainable table tops that boast food-safe, formaldehyde-free bamboo parquet butcher blocks that come in natural colors provide earth-friendly options for home owners.
Surfacing
Healthy surfacing options are offered with water-based adhesives, low-emitting particleboard cores and quality-certified indoor air laminates. The many high-quality options available in today's kitchen can perform their task while being safe for the environment and your family.
High-tech basic features of a kitchen
Every part of the kitchen is becoming high-tech. The combination of high-tech and functionality brings fun to the kitchen. A perfect example of this is the new multimedia ventilation hoods. The hoods boast 17-inch LCD screens that can be used for any multimedia desire such as music, DVDs or just watching your favorite show while preparing a meal for your family.
High-tech fridges have also incorporated TVs into their design so that not a minute of quality entertainment is missed. With multimedia functionality allowing the user to play their DVD, music or a show through their fridge, the TV room is not the only place where you can unwind and enjoy yourself anymore.
Minimalist designs
Gas stovetops no longer need to be a protrusion in the kitchen. With new designs, the burners can retract to be flush with the surface when the stove is not in use. When they are needed again, a simple button prompts the burners into place.
Color is back
While stainless steel will probably never go out of fashion, brighter appliances are making a comeback. Many big appliances now come in an array of hues that can liven up any kitchen.
The future of kitchen designs looks bright with the new, high-tech appliances coming to kitchens. Speak with a professional kitchen remodeling contractor today to see how they can bring an old kitchen into the new century.