Kitchen Electrical Remodeling
Dec 17, 2015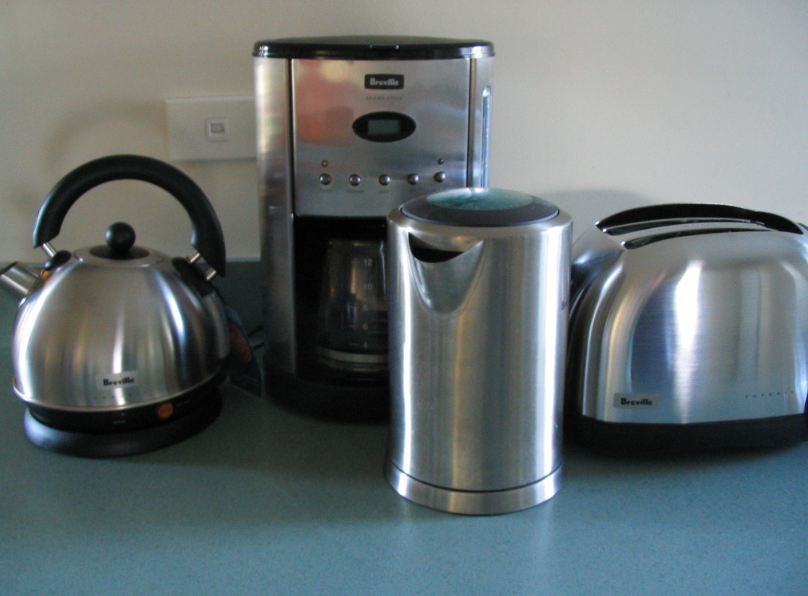 It may have become apparent to you over these holidays, if you live in an older home, you might not have enough electrical outlets. Luckily that is a problem that can be addressed in a remodeling project. While that is usually true when it comes to where to plug in the tree or those holiday lights, it is particularly true in your kitchen. Wouldn't it be great to finally have enough outlets to plug all your appliances in at once?
Cornerstone Builders can take care of that for you by renovating the electrical portion of your kitchen and even add to the value of your home while we are doing it.
Older homes were designed with those modern appliances in mind. No one had a Vitamix juicer, an electrical rice maker or a cappuccino machine back in the day. And no one had even heard of a GFCI outlet (a Ground Fault Circuit Interrupter, which is used anywhere else that water is in close proximity. The devices help safeguard against electrical shock and are available as an outlet or a breaker).
In a kitchen remodeling, you not only will get the circuits you need, but the kitchen will look better and be up to code, meaning it will be a safer place for you and your family.
There are at least seven circuits that are needed in a kitchen and that is the minimum, but by no means the only, circuits you may want to add for your convenience. There is a 15-amp basic lighting circuit, two 20-amp small appliance circuits, and five dedicated circuits for specific appliances. A good rule of thumb is that if an appliance has a motor, it needs its own circuit.
Here is a good basic plan, but be sure to talk the situation over with Cornerstone Builder's experienced electrical designer. He is the expert at renovating electrical systems and will help you design the perfect plan for your kitchen:
Basic Lighting Circuit
To power the ceiling fixtures, task lighting and recesses can lights, you will need a 15-amp, 120-volt circuit. A 15-amp, 120-volt circuit electrical wire will run the lighting circuits.
Refrigerator Circuit
This appliance has probably undergone the biggest change over the years. Refrigerators are much bigger (so are most of us Americans) and now come with water and ice dispensers, special cold zones and built-in icemakers. This all calls for a lot of power and needs a dedicated 20-amp, 120-volt circuit. ]
Range Circuit
This is another appliance that has undergone big changes. Ranges are much larger and may have more burners, special grills or even woks. Ovens can be single, double, convection or a combination of all of these. Your range will need a special cord that plugs into a special range outlet and will also need a 50-amp, 240-volt dedicated circuit that will supply the power to the range/oven through a 6-3 electrical wire.
Microwave Circuit
Microwaves now are more powerful than the early tabletop models and use more wattage (and therefore more power.) the most common is 1,200-watt model requiring a dedicated 20-amp, 120-volt circuit, wired with 12-2 cable.
The Disposal
The kitchen food disposal used to be the family dog. Now, this relative newcomer to the kitchen requires a separate 15-amp, 120-volt circuit and is wired with 14-2 cable. Some homes share a circuit between the dishwasher and disposal, but since you are remodeling, why not have a separate circuit for each.
Dishwasher Circuit
What would we do without our dishwashers? They, too, are becoming larger and have more bells and whistles than ever before—a china cycle, a glassware cycle, one for pots and pans, one to sanitize or power dry. Depending on the model you will need a 15-amp, 120-volt circuit and is wired with 14-2 cable.
Small Appliance Circuits
Toasters, waffle makers, coffee pots, popcorn machines, crock pots, blenders, can openers…the list goes on and on of those portable appliances found in every modern kitchen. These necessitate at least two dedicated circuits for these countertop and eating area outlets and the countertop outlets should not be farther than four feet apart. There is a minimum of two 20-amp, 120-volt dedicated circuits, wired with 12-2 and/or 12-3 cable for these.
When it comes to designing your kitchen remodeling project, make a list of every appliance you have or hope to have and the model of each. Our electrical designer will take everything into account and create the perfect renovation plan for you. Visit us and arrange for us to come out to give you a free estimate and start planning the kitchen of your dreams.