Minimalist Counters, Cabinets, and Hardware in Your Kitchen Remodel; Less is More Part III
Apr 18, 2015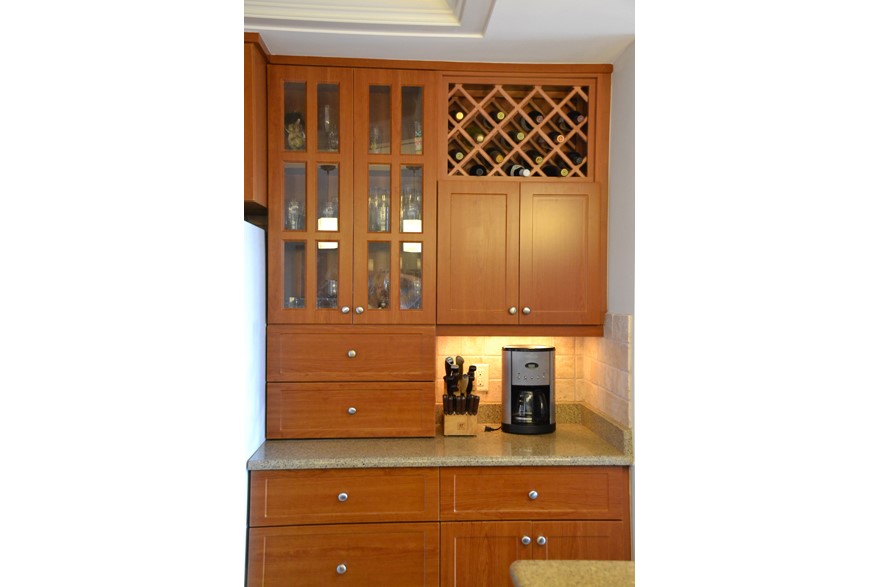 Functionality and sustainability resonate throughout the modern kitchen. Following our first two blogs in the Less is More series, let's now focus on the major parts of your kitchen remodel.
CABINETRY
As we mentioned earlier in this kitchen remodel series, the natural look is in. But when it comes to cabinets, we're seeing a lot of laminates that look like the real thing but cost less and are not as heavy/clunky. We're also seeing a mix of contrasting materials between upper and lower cabinets-usually the upper is lighter, the lower darker. Many of the upper cabinets have etched, frosted, or just plain glass fronts. This is a great way to showcase any art, cookbooks, or good-looking china that you might have.
Most important when talking about functionality in cabinets is STORAGE. When planning your kitchen remodel, you need to consider your lifestyle, and determine how to make your kitchen cabinets work at optimum efficiency for you. Ex. Instead of reaching up to grab plates and bowels, lower drawers can be built to hold them in slide-out panels to maximize space. Any items that are used frequently should be close to the space in which they are used. Get creative; there are tons of options now.
COUNTERTOPS
Mix it up. Incorporate a static butcher block into your granite counter tops, or a work surface made of stainless steel or marble. Contrast the textures in your kitchen remodel. Your island countertop could have a satin-finish and your main countertops could be a honed slate. Thicker countertops are popular now. If you want to just give the appearance of a thick counter without actually pay for more material in your kitchen remodel, you could opt for an apron edge that gives the illusion of a thicker slab of material.
FAUCETS AND HARDWARE
Stick to the minimalist idea when planning the faucets and hardware for your kitchen remodel. Handles could be hidden or chunky. Use small stainless steel rods to add to clean lines. Minimalist does not have to mean boring! When planning your kitchen remodel, coordinate your hardware with appliances and door hardware so that your kitchen remodel has a cohesive "outfit". You could also get minimalist by actually adding technology to your faucets and hardware. Consider hands-free or one-touch, making it easy-to-use for the cook who likes to get their hands dirty. There are even options that give you increased pressure while using less water as well which can help clean pots and pans quicker while being more sustainable.
Plan the main components of your kitchen with Cornerstone Builders of Southwest Florida. Contact us here today!