Planning the Perfect Outdoor Kitchen-Part 1
Jul 23, 2015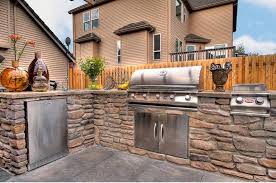 No need to wait in line to get a great seat on a lovely patio at an expensive restaurant. If you want to dine under the stars (and keep your house cooler by limiting cooking inside), build an outdoor kitchen.
You can cook, eat, entertain, grab an après-pool snack or host Thanksgiving dinner for a crowd with –finally—no space concerns. An outdoor kitchen can be as simple as a built-in grill, laying out a larger patio, deck or lanai and adding a few tables and chairs or as elaborate as your indoor kitchen, complete with built-in appliances and seating.
Here are some tips to use when working with Cornerstone's design team to plan your perfect outdoor kitchen:
Choose the location carefully: Make sure your new kitchen won't block your view of the pool, golf course, lake or fabulous sunset. Also, the last thing you want your grilling expertise to do is fill your house with smoke, so literally take note of how the wind blows (there are general patterns) and put the grill where it will vent in the correct direction. Keep the entrance near the indoor kitchen (platters can get pretty heavy) and consider the traffic flow of the house and lanai. Don't put a hot grill near a children's play area and be mindful of people slipping too near a pool.
Flooring choice is important: Your outdoor kitchen flooring has to be durable enough to withstand extremes in weather, lots of food traffic and the weight of any appliances you are installing. Tile and marble might prove too slippery when wet (SW Florida's humidity has to be taken into account here) and may not stand up too well to oil, grease or food stains. If you are putting your kitchen on decking, have it painted or stained, not only to match your color scheme, but to up its durability factor. (One of our later blogs will deal with building and maintaining a wooden deck). Think safety first, durability second and beauty third when choosing flooring.
Before you go appliance shopping, work with our kitchen designer: Don't fall in love with that perfect wine cooling refrigerator or the grill you saw in a magazine. The appliances you chose will dictate the size of your outdoor kitchen. Start with a designers plan and it will show how much room to leave for each appliance and how it must work together with the others. Don't space them too close together and leave prep room on either side. The traditional kitchen triangle places the sink, cooktop and food storage (like the refrigerator) in a triangle setting and it does still apply out here. Keep the legs of the triangle no less than 4 feet and no longer than 9 feet. A good rule of thumb for distances around appliances is 36" for every person in the kitchen.

Use different height counters: Having various counter heights and work surfaces can allow for different functions within the outdoor kitchen. Traditional 36" high counters are prefect for standing prep work and cooking, 42" high bar tables are great for standing or resting food and beverages and 30" high surfaces are good for sitting and eating, Combining all three heights into your outdoor kitchen design will really allow this space to be both functional and flexible.
More about designing or renovating your perfect outdoor kitchen in Part 2 and no matter what your project—kitchen remodeling or bath remodeling or general remodeling, Cornerstone Builders stands ready to help. Please contact us today.