Planning The Perfect Outdoor Kitchen-Part 2
Jul 24, 2015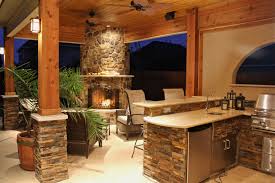 Whether you are remodeling or installing a new one, here is Cornerstone Builder's second blog full of advice on how to plan the perfect outdoor kitchen. Check Part 1 and then read on for even more tips:
Plan for lots of storage and workspace: Keep in mind that all storage should be watertight and weatherproof (you don't want rusty pans during SW Florida's famous rainy season or to chase your Tupperware around the lanai during a windstorm). Make sure cabinets stay tightly closed (investigate using latch-type closures like in a boat galley) and that the counter can be easily cleaned and is waterproof. Countertops combining stone, concrete and stainless steel are good choices as they are smooth, easy to maintain and resilient. Coordinate the stone with the surrounding deck and finishes and remember, complementary looks are often better than having everything match perfectly.
Put some money into the appliances: Don't go for the cheapest, but rather look for durable appliances and allow yourself to have some fun with gadgets. Besides a big gas grill, think about a smoker, a hibachi grill, a beer tap or a warming drawer. Perhaps you need a popcorn machine for when people stop by to watch The Big Game. Choose appliances with great reputations and warranties and those that require low maintenance. Remember, they have to make it through the wind and rain. Consider two sinks, one for prep or quick rinses and one for washing lots of produce and dishes (unless you have an outdoor dishwasher, in which case, it must be hooked up to your home's water supply. You may also want your gas grill plumbed to your house's gas line doing away with propane tanks). Add a portable dolly if you plan to move lots of ingredients and serving dishes in and out of your home and, if so, angle a tiny ramp off your kitchen floor sill to facilitate the dolly going in and out.
Add some comfort (and pizazz): Your outdoor kitchen should offer plenty of comfortable nearby seating so the chef can interact with this guests, whether this is an outdoor sectional with coffee table (and/or fire pit) or plenty of comfy backed stools to line up along the concrete counter, encouraging guests to help with the cooking. Pick durable, colorful outdoor fabric for all cushions. The selection of gorgeous outdoor rugs now numbers in the hundreds and outdoors is where you may want to show off your most dramatic choices in lighting. That Moroccan pendant lamp would look perfect illuminating your outdoor kitchen (just remember, the materials used in the lighting must also be able to withstand the weather.) Add a small fountain for some lovely white noise or a fireplace with a big screen TV mounted above it and don't forget the sound system. Today's wireless systems make it easier than ever.
Keep it safe: A tall roof can let you cook even in the rain, but fire codes must be met to cook under any shelter and a properly installed vent is a must. Umbrellas will be welcome for any tables set outside the roof. You may want to include overhead fans or misting sprayers and maybe even a heat lamp for chilly nights. Screening in part or all of the area will help with bugs or permanent tiki torches for citronella inserts will be welcome. Make certain all walkways, stairs and pool surrounds are well lit for safety and you may want to investigate adding color changing pool lights for nighttime entertaining. For your cooking, be sure you have plenty of worktask lighting, above and under the counters, above or inside the storage areas and near any prep sinks. Have plenty of built-in trash and recycling receptacles and/or compost holders and keep them clean after use to discourage critters. Get good rubber mats for under your feet while cooking. Not only will that discourage slipping, but your back will thank you. Keep your grill and cooking surfaces clean to discourage fires, have an extinguisher nearby and enjoy your new outdoor kitchen.
To plan, build or remodel and existing outdoor kitchen or renovate a bath or any other remodeling project, please call Cornerstone Builders. Our remodeling expertise will benefit you and your remodeling project.