Remodeling A Small Bath
Jul 22, 2015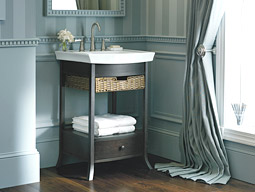 If you have an older home, you may find that the house retains the original 5-foot by 8-foot size and that feels pretty tight by current standards. In fact, in new construction, bathroom size has largely doubled from that pre-set. But remodeling a bathroom is what we do best and renovating that bath is a popular project with homeowners.
Here are some tips for remodeling that small bathroom from Kohler:
Make the most of the tub itself: Choose a standard size tub but one with a curved basin. A coordinating curved shower rod is the perfect accent to this easy fix that creates the perception that the room itself got bigger.
Use a lower sight line: Consider a five-foot tub with a flat bottom, one that is a lower walled model that opens sightlines and helps the room look bigger. The tub still allows for a bath—maybe not the best for a long soaking one though. This type of tub is really perfect for showering.
Skip the curtain: Sliding doors don't need door opening clearance and the glass acts like a window, reflecting light and adding the perception of space.
Choose a single sink: You may not really need two basins as modern homes usually have two bathrooms. This enables you to choose a smaller vanity and if you use a single hole faucet model you save space. Think about using no vanity at all, by choosing a wall-mounted sink or pedestal sink and make up the storage with some added shelving.
Keep colors simple: Light tones and one color palette help keep a small bath from being overwhelmed. Experiment with textures rather than patterns for interest. Save the dramatic bold design scheme for the powder room, not a working bath.
Downsize the toilet: Get ride of that round fronted toilet with a compact elongated one. Such toilets not only save space, but use less water.
Use the corners: Don't waste any available space in a small bathroom. Build shelves or use an open storage unit in the corners. Make the most of those available inches. The experienced design team at Cornerstone can help you plan the renovation of your smaller bathroom, making it seem large and lovely.
Whether you are planning a bath remodel, remodeling your kitchen or any general remodeling project you have in mind, the experts at Cornerstone stand ready to help. Call us today.