The Vanity is an Integral Part of Your Bathroom Remodel
Mar 24, 2015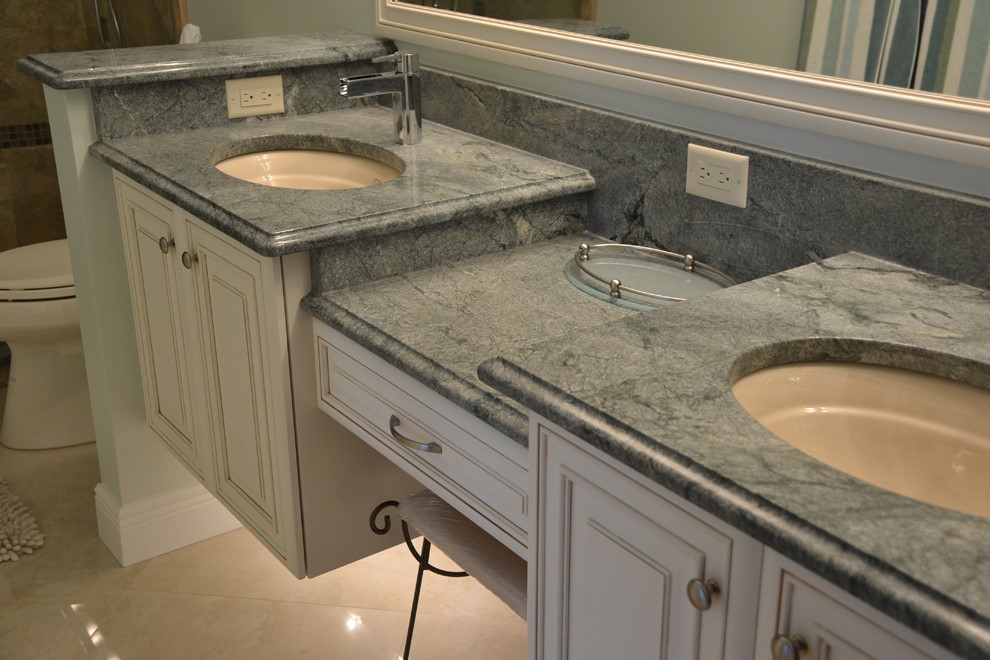 What's the first thing you notice when you walk into a bathroom? More often than not, the answer is the vanity. That being said, we agree with NKBA (National Kitchen & Bathroom Association) that the vanity should be a primary focus of your bathroom remodel.
The vanity will likely take up a large amount of space in your bathroom. It's a good idea to consider what kind of cabinets/storage you'd like and to choose the style that allows you to use the space efficiently.
First, determine whether you need a vanity or sink console. Base this decision on storage and size of the bathroom remodel space. Sink consoles are often smaller and therefore better for guest baths, half baths, or powder rooms. They usually don't offer storage space under the sink but some do come with a small cabinet. Vanities are best for master baths or just larger bathroom remodels in general.
Vanity Size
Your vanity should look proportionate to the rest of the space and the fixtures that you have planned for your bathroom remodel so far. If it will be near a door, make sure that the way that the door or the cabinets would swing won't cause a problem. Single vanities are appropriate for smaller spaces, while double vanities work with larger bathroom remodels.
Styles
There's so many to choose from. Is your bathroom remodel going to be contemporary? If so, you may want to choose white ceramic, geometric shapes, or even bold colors. The more traditional remodeler could choose carved wood.
Materials
Just like styles, there is a plethora of materials to choose from. Base the decision on style and budget. Solid woods can be more expensive but will allow you to achieve a traditional-style bathroom remodel. Cut costs by opting for fiberboard (pressed wood) instead. It can be covered with laminate to make it moisture resistant and durable.
Glass vanities can help small spaces look larger. If you're on a tight budget, plywood and particleboard are there for you; get the best quality to avoid premature repairs.
Vanity Tops
Vanities do not always come with a top; some are just cabinets and others have a sink bowl built in to the countertop. If you've already decided on a sink bowl for your bathroom remodel, you can just get a vanity top as long as you make sure it has holes cut out that are compatible with your planned faucet and hardware.
Cornerstone Builders of Southwest Florida have plenty of bathroom remodel wisdom to share! Contact us here today!