What Goes Into Custom Cabinet Installation?
Oct 16, 2013
If you're looking to remodel your kitchen or bathroom, nothing makes it more you than custom cabinetry. With custom kitchen and bathroom cabinet installation, you have the option to create the perfect storage that will both match your design tastes and your needs.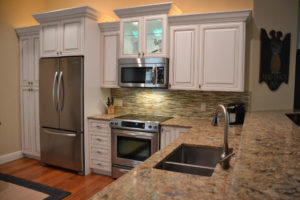 Here at Cornerstone Builders, we like for our clients to be fully aware of what's going into their remodeling project. You'll be informed for every step throughout the entirety of your remodeling project, and custom cabinet installation is no different.
Step 1: Choosing Your Cabinets
We have experienced designers that will visit your home, listen to your needs and wants, and help you choose and design the perfect custom cabinets for you. Cabinet material options vary greatly – from red oak wood to laminate and the ability to stain wood to match your color preferences. With so many cabinet material options and colors, you'll be able to craft the perfect cabinet for your kitchen.
Step 2: Measuring Your Cabinets & Kitchen
Once you've chosen your custom cabinets, the next step is for us to visit your home to measure. We measure everything ahead of time to get cabinets put into production. Once we've measured, your current cabinets will be removed. Then, your new custom-designed cabinets will be installed shortly after.
Custom Cabinet Warranty
When you choose Cornerstone Builders for your Fort Myers, Naples, or Cape Coral cabinet installation project, you can ensure that your cabinets will be of the highest quality. And, because we are so sure, we offer all of our clients a LIFETIME MATERIAL WARRANTY on all products we manufacture for as long as you own your home.
Cornerstone Builders of Southwest Florida: Fort Myers' & Naples' Custom Cabinet Maker and Installer
Since 1988, we have been serving the Southwest Florida's home remodeling needs. With over 16,000 customers (and counting), we seek to provide only the best in cabinetry services in the area. Throughout our time in SWFL, we've seen cabinet companies come and go. With Cornerstone, however, you're working with a team of professionals that has 25 years of remodeling experience.
You may be able to find both higher and lower prices for what we do at Cornerstone, However, you will not find better value for your money than what you will find with Cornerstone. We have the right people to ensure that your custom cabinetry will be designed, manufactured, and installed to the highest of standards.
Are you ready to start your custom cabinetry project? Call us at (239) 332-3020 or fill out this form today!