Shower Remodel: Choosing the Right Shower Door
Oct 10, 2013
Bathroom remodeling calls for a ton of decisions. Which tile will you use? What type of sink will you have installed? What type of cabinets will you have made? All of those are important decisions, but it's also very important to make the right decision when choosing a new glass shower door.
There are a few factors involved in your shower door choice, including the size of your bathroom, the size of your shower, and who will be using your shower (e.g. if there is difficulty getting in and out of the shower, you may want to opt for a larger shower door for easier access). There are a few different glass shower doors to choose from and we've listed them here.
Sliding Shower Doors
Sliding shower doors are among the more popular shower door choices. The sliding glass shower door lies on a track on top of the tub, allowing you to simply slide the door open/closed and not affect the other areas of the bathroom (i.e. having to make room for a shower door that swings out into the bathroom). However, one downfall of sliding shower doors is that they can be difficult to clean.
Curved Shower Doors
Curved shower doors are perfect for smaller bathrooms where the shower lies in the corner of the bathroom, allowing more room and flexibility. Another great benefit of the curved shower door is that you're able to reverse the door and allow access from either side of the shower.
Frameless Shower Doors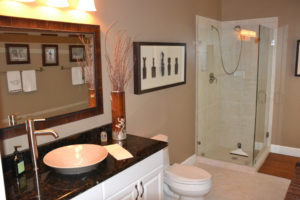 The frameless shower door is up and coming in popularity among bathroom remodelers. Known for its modern qualities, frameless shower doors provide a clean, clear design for any bathroom. Frameless shower doors are made up of one slab of glass and open outward into the bathroom (which means you'll need to make sure that there is enough room for the door to swing).
Fort Myers and Naples Shower Door Installation
Whether you're looking to give your bathroom a total overhaul or are simply looking to replace that old glass shower door, Cornerstone can help. We've been providing Naples and Fort Myers bathroom remodeling services for 25 years, with over 16,000 clients served. Our licensed shower door installers will ensure that you get the best quality glass for your shower door and that it looks exactly the way you want it to look.
With Cornerstone, you receive a lifetime material warranty on all products we manufacture, along with a free in-home consultation and pay zero deposit to start your project. We aim to provide you with a glass shower door that will enhance your bathroom and have your guests saying "WOW!"
Contact us today to schedule your free in-home consultation!