Choosing a Kitchen Island
Oct 21, 2013
Kitchen islands continue to be popular among new and remodeled homes. Both stationary kitchen islands and kitchen island carts offer something extra in the way of room for meal preparation and extra storage space. In addition to extra space, a kitchen island also provides an extra area for seating.
Are you considering a custom kitchen island for your remodel or looking to update your current kitchen island? At Cornerstone, we like to take the steps necessary to provide you with information to make the best decision for you. Here, we're going to list out some factors to consider when choosing a custom kitchen island for your home.
#1: Extra Seating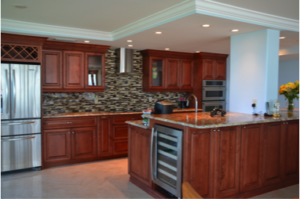 If you're opting for kitchen island installation, do you plan to use this island for extra seating? Oftentimes, this space is used for a few barstools for people to eat. This can be useful for those extra few guests that show up for holiday meals or for your daily breakfast routine. Either way, the kitchen island can become the heart of your kitchen while providing extra storage and workspace.
#2: Extra Kitchen Storage
When you add a kitchen island, you also get additional kitchen storage space in the cabinetry and drawers within it. If you're an avid cook, you can store all your relevant tools and pieces in one place (or use it for an extra junk drawer!).
#3: Extra Kitchen Décor Space
A kitchen island is considered mainly functional, but it can also add an extra decorative piece to your kitchen. Kitchen islands often become the centerpiece of a kitchen, thus providing your kitchen with a main, decorative theme to follow.
See Your Kitchen Island – Your Way
Are you unsure of whether you want to install a kitchen island? Using our special "See It Your Way" tool, you can design your ideal kitchen to see just how a kitchen island would impact it. In addition to viewing your kitchen island, you can view different kitchen cabinets, countertops, backsplashes, and more.
Cornerstone Builders of SWFL: Custom Kitchen Island Installation
Here at Cornerstone, we try our personal best to make the island the heart of your home. There over a 100 different types of kitchen island designs, and we're here to help. Each member of staff is an expert in his or her respective fields, and with us, you can be sure that you're receiving a top-quality, finished product. Whether you're looking to install an entire new, custom kitchen island or are looking to update your current one, we're happy to help!
If you're ready to discuss kitchen island options in your home, call us at (239) 332-3020 or fill out this form to schedule your free in-home consultation today!