What Kind of Faucets Match Your Kitchen Remodel?
Jan 12, 2015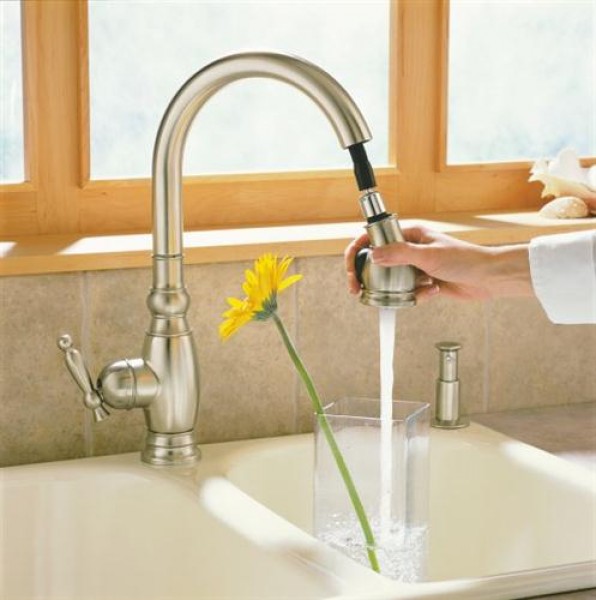 The faucet is a part of the kitchen that you use every day. Kitchens.com reminded us that when considering your kitchen remodel, it's important to think about the design, installation, and functionality that you're looking for.
How many handles do you want?
You could choose to have one handle or two for hot and cold. It's more traditional to have two handles but having one allows for easier handling; say you only have one hand free and are looking to switch from hot to cold. When planning your kitchen remodel you will need to know if you want your faucet handles to be on the actual faucet or to the side. Depending on the location of the handle, a certain kind of handle could need one, two, or even three holes drilled…so it is important to determine what will look best in your kitchen remodel.
How/where will it be mounted? How will it work together with your sink and countertop?
Centerset Faucets are the most affordable and easiest to install. Choosing a centerset could be a way to cut costs for your kitchen remodel. The spout and handles stem from a single base and require 3 holes to be drilled-one for the spout and one for each handle. You can choose how close together the handles are for your purposes (if they are closer together, they are great for sinks that are used in bars or prep areas). This is something to think about if you are planning a mini bar as part of your kitchen remodel.
Widesprad and Mini-Spread Faucets have their handles set apart from their spout. Rather than having a base like centerset faucets, the handles and spout sit directly on the countertop. If you are doing a partial kitchen remodel and are planning to keep the countertops surrounding your old sink, try to pick a faucet that doesn't require more drill holes than your counters already have; it will cost more money. It is easier to have this done during fabrication-so if you are doing a full kitchen remodel, make sure that you have the correct amount of holes drilled before you have your new faucet installed. Remember that if you want a side sprayer, it will require an additional hole.
Wall-Mounted Faucets give a very modern look. While a deck-mounted faucet is installed in your countertop, a wall-mounted faucet is installed into your backsplash. Use these to allow more countertop space in your kitchen remodel.Before you begin, it's important to make sure that the kitchen is plumbed properly to support a wall-mounted faucet. A Pot-filler Faucet is one with a spout that is high up on the wall above your cooktop (allowing you to sit a tall pot on your stove and fill it up). This kind of faucet could be a beautiful rustic addition to your kitchen remodel, especially if done in copper.
Let Cornerstone Builders of Southwest Florida help you plan and execute your kitchen remodel!
Contact us here today to explore the possibilities!