Where Does Natural Stone Fit in Your Kitchen Remodel?
Apr 28, 2015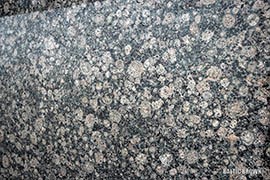 Natural stone elements should be carefully selected for your kitchen remodel. Houzz did a great job at outlining the necessary questions to ask when choosing your natural stone.
How thick does it need to be? Interior wall and floor tiles are usually ⅜ inch thick. Countertop slabs usually range from 2 centimeters (¾ inch) to 3 centimeters (1¼ inches) thick. You can always add a laminated edge to a countertop to make it seem thicker. Try to pick a stone with consistent thickness to transition floor tiles in and out of rooms adjacent to your kitchen remodel.
Are there fissures? Fissures are usually hairline fractures that occur in a natural weak point in the stone. Some fissures won't cause issues, it just depends where they are in your kitchen remodel. You can't have fissures surrounding your sink. Some stone can also break during cutting. Have your fabricator review the slab of stone for flaws and fissures.
What's your finish? Polished and honed are most common. Polished is shiny while honed has more of a matte sheen, rather than a reflection. Acids, buffing, and heat can give rougher textures. Just remember when choosing flooring tiles-the more polish, the more slippery (and potentially dangerous). You can diminish the slip by using smaller tiles with more texture for your kitchen remodel.
Will the sample match the rest of my kitchen remodel? Get a large sample of natural stone as its color can vary greatly from tile to tile and slab to slab.
Is it strong enough to span? Some stones are not strong enough to span the distance of a breakfast bar or across a dishwasher. A support element may need to be added like a decorative corbel, concealed steel brace or routed area containing a fiberglass rod.
How porous is it? Stones like limestone and marble absorb stains more readily due to their porosity. Even acidic substances like lemon juice could cause etching. Soapstone is very soft and easily scratched. Your choice here will be determined by the function of the stone in your kitchen remodel; you wouldn't want a butcher block made of Soapstone…which leads us to the next question.
Is it durable? It depends on how much maintenance it needs and how much you are willing to give it. How will you use it? How carefully will you clean it? Answer these questions beforehand so that your kitchen remodel will last.
Do I need to seal? Sealants can give a shine or darken grout or textured surfaces, but can be vital to protecting them. Ask to see samples of the stone you're considering with a sealant on it.
What's the source? Where does it come from, how it is produced? These types of questions will determine whether your kitchen remodel is sustainable or not. Getting Soapstone shipped from a rare quarry across the globe is not environmentally responsible due to fuel cost, use of resources for transportation, and likely short life of the product.
Cornerstone Builders of Southwest Florida can answer any question you might have about natural stone and would love to help you with your kitchen remodel. Contact us here today!