Bathroom Sound Solutions
Dec 12, 2015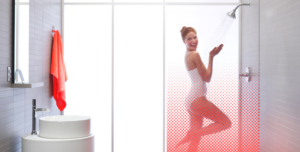 The days of a transistor radio on a stool near your bubble bath are long behind you. For the bathroom remodeling project you are contemplating, why not make use of today's fantastic audio solutions?
We are all addicted to our tables, smartphones and laptops, so we might as well make use of this fact and customize our bathroom remodeling project to make the best use of this trend.
Let's say you are a homeowner who enjoys belting out the Top 41 on the shower. If so, an audio system in your bath can keep you singing all the time.
Easy, affordable products like Moxie® showerhead + wireless speaker bring clean, clear sound to your bathroom. You can swap our your current showerhead for the Moxie showerhead plus wireless speaker to stream music, podcasts and more directly to your shower for the ultimate singing-in-the-shower experience. No need to ever let the music stop.
You can also replace your boring old bathroom fixtures with ones that have high-tech features built right in. We have come to depend on such things available at the touch of a finger and we expect such technology to be beautiful and streamlined (thanks Apple). Numi®, Kohler's most advanced toilet, is one such piece of technology. It has an audio system with AM/FM radio and an auxiliary input. You will be able to access your audio books, playlists and podcasts just like you used to do those magazines beside the toilet.
If it is a spa-like atmosphere you are going for in your bath remodeling project, you can now bring the sound right into the bath or shower with you. Baths that feature VibrAcoustic® hydrotherapy adapt the science of sound therapy and emit sound waves that gently resound within the body. Instead of those blasting jets of yesterday's whirlpool tubs, this technology is gentle and makes use of music's calming qualities to help relax you. It even works when you aren't using the bath, so you can enjoy the music when shaving or putting on your morning makeup.
Since the energy of the room is controlled by your playlist, this technology allows you to select from preprogrammed lists or hooks up through Bluetooth® wireless technology or your MP3 player to access your own custom playlists.
Ask your Cornerstone Building remodeler about wiring your home for a complete audio system as part of the renovation. Bluetooth technology makes it possible to use a table or smartphone to create a wireless sound system anywhere in your home, even outdoors.
Small enough to hide in a cupboard in the bath or behind a planter on the lanai, an inexpensive KOHLER Amplifier and a set of SoundTile® speakers is a simple way to surround yourself with sound. The Amplifier wirelessly transmits news, music, podcasts, audio books and more from a Bluetooth device through the connected speakers.
Or you can keep up with the day's headlines or how your stocks are doing while listening to your favorite radio station through the slim speakers of a StereoStik® audio add-on. Designed for easy mounting on KOHLER CL Series medicine cabinets, StereoStik includes an input jack for an MP3 or other personal music player.
Kohler has many ideas for you to use in your bathroom remodeling or whole house renovation to make sure your keep the music playing. At Cornerstone Builders, we are happy to come out and discuss your remodeling project and help figure out how getting wired for sound can create a perfect system for your home. Contact us today.
The BLUETOOTH® word mark and logos are registered trademarks owned by Bluetooth SIG, Inc. and any use of such marks by Kohler Co. is under license. Other trademarks and trade names are those of their respective owners.