Considering Custom Closet Design In Your Home?
May 30, 2013
From shoe organizers to velvet clothes hangers, there are plenty of DIY ways to make your closet work for you. However, sometimes the DIY tools won't cut it – maybe you want to turn a simple walk-in closet into your personal & luxurious dressing room? Maybe you'd like to take that space and turn it into a private office or hideaway? Either way, the do-it-yourself organizers and tools won't make that happen. If you're looking to majorly remodel your closet, then custom closet design is the solution for you.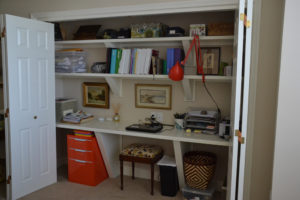 At Cornerstone, we can take any dreams you have for your new closet and turn them into reality. If you're looking for some ideas for a new closet and how it will help you with all your storage needs, we've gathered a list of things to help!
Keep Shoes, Ties, and Everything Else Organized
When you build your custom closet, you're able to create storage space just for you. Maybe you've got a lot of shoes that need to be neatly kept or maybe you have designer ties that need their specific places – with a custom closet, you can hold all your things with ease. We'll work directly alongside you to build the perfect storage space to be functionally beautiful.
Things in Style
Oftentimes, closets can be less than glamorous. When you work with us to design your custom closet, we can create a luxurious feel within your closet. If you want to feel like you're in a designer dressing room each morning, a custom closet can help you do that! Many custom closets can be equipped with things like chandeliers, comfy chairs, and areas to store décor.
Create Your Extra Space
Another thing to consider when creating your custom closet is that you can turn it into anything! Turn your closet into a reading hideaway with comfy chairs and dim lighting. Or, you could turn it into a functional and productive area by turning it into a mini office. Either way, you can never go wrong with more space for you!
Ready to Start Your Custom Closet Design?
Cornerstone Builders is Fort Myers' and Naples' home remodeling contractor. Serving Southwest Florida's home remodeling needs since 1988, Cornerstone has helped over 16,000 customers achieve their home remodeling dreams. Whether you're looking to build a beautiful custom closet or any other part of your home, we'll work alongside you to turn your ideas into reality.
We treat our customers like family, with honor and respect. We'll work with you each step of the way to ensure that you are WOWed by the final product! Receive a FREE in-home consultation and pay ZERO deposit to start your project. Also, we provide a lifetime material warranty on all products we manufacture for as long as you own your home.
If you're ready to start creating your custom closet, call us at (239) 332-3020 or fill out this form to schedule your free in-home consultation today!