Customized Closets: Organizing Your Life
May 26, 2017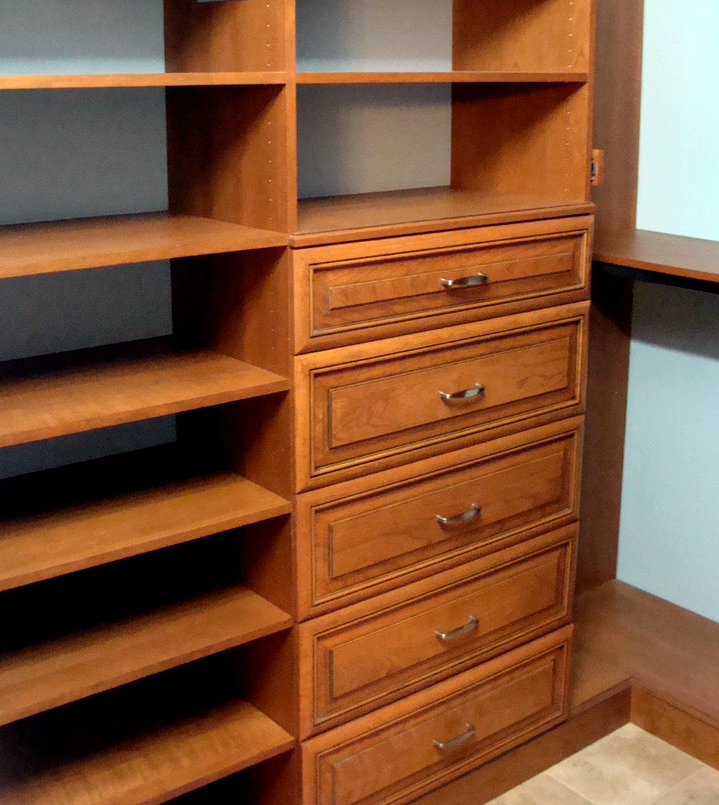 Many things in life can be difficult, but organizing your belongings doesn't have to be. With the right closet in your home you can alleviate the stress of searching for your favorite clothing and get the most out of the space you have in your home. Customized to fit your needs, there are no cookie-cutter layouts to diminish your style. The most effective closet is designed with your inventory in mind, whether you are a shoe fanatic or tie collector.
Small detailed elements, like flooring material, may never cross your mind but are essential to closet function. Carpet may give your closet a warm feeling, but its costs outweighs its benefits as it is easily dirtied and harder to replace after the fact. An alternative to carpet is to install wood flooring or tile and purchase a rug to place on top.
The materials you choose to build your closet, too, need careful consideration (especially if a theme is desired). A wood system creates a boutique look as opposed to coated wire or melamine systems that look more modern. Will you want more space for hanging, or would you prefer drawers? Perhaps you favor an abundance of open space for bins? The choice is yours, and that choice will define how the layout should be installed.
Once the shell of your closet is put in place, buying soft and decorative storage bins can help organize your inventory as well as incorporate a theme you are trying to achieve. Hangers can also brighten your closet; velvet or color-coded hangers are simple additions that go a long way. Other colorized pieces – including rugs and chairs – can help make a statement or tie thematic elements together.
If you don't have a walk-in closet, there are still creative ways to maximize your space. For example, if you're able to use the back of your closet doors for storage, consider adding hanging hooks to store bags or a specialty hanger for belts, ties, scarves and other thin items. Hanging storage shelving can substitute traditional shelving, though it certainly does not have the lifespan of custom installed drawers.
No matter the amount of space you are working with, remember that organization can always be achieved. Whether you're ready to repurpose your closet or aren't sure how to maximize your space, we're happy to help. Contact us today by calling (239) 332-3020.