Do Your Kitchen Cabinets Need an Update?
Apr 29, 2013
If you're looking to update your kitchen, your cabinets will likely be a part of that process. Kitchen cabinetry is often the foundation for the theme for your kitchen and can help create that atmosphere you're looking for. If you've been stuck with the same cabinets for years and years, it may be time for a cabinetry remodel. Whether you're looking for an entirely new look or a simpler update, Cornerstone Builders of Fort Myers and Naples can help!
Custom Kitchen Cabinetry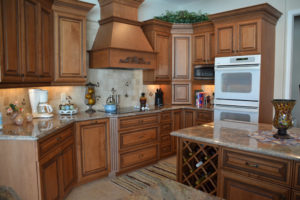 One option for updating your kitchen cabinets is to install custom kitchen cabinetry. At Cornerstone, we build custom cabinets utilizing both solid wood and Thermofoil doors. If you're looking for more than one-size-fits-all cabinets, we can help! We offer more than a catalog and can create custom cabinets that will be tailored to your specific needs.
Cabinet Refacing
A second option for updating your kitchen cabinetry is refacing. When we reface cabinets, we first remove and dispose of the existing cabinet doors, drawer fronts, hardware, and hinges. Then, we sand them to prep for new laminate for veneer. Your new laminate or veneer is then applied, then come the new doors, drawer fronts, and hinges. This option is perfect for those looking to remodel on a budget, since cabinet refacing can cost between 30-40% less than custom cabinetry.
"Can I Do Both?"
We are often asked if we can complete a combination of custom cabinetry installation and cabinet refacing, and the answer is yes! If you only need to completely replace a few cabinets and are looking to reface the rest, we can do that! We can replace the few cabinets that need it and then reface the rest to exactly match. Once everything's been completed, the cabinets will look like they've always been there.
Cabinet Remodeling in Fort Myers & Naples
If you're unsure of what to do to your existing kitchen cabinetry, we can help! Cornerstone Builders has been serving Southwest Florida for 25 years. With showrooms in Fort Myers and Naples, we can help you redesign your cabinets and provide the perfect solution for you and your needs!
From the initial in-home consultation to completion of your cabinetry project, Cornerstone will be with you each step of the way. We have experienced designers that will listen to your needs and provide a cabinetry solution tailored to you. Also, pay ZERO deposit to get started and we offer a lifetime material warranty on all products we manufacture for as long as you own your home.
Are your cabinets ready for an update? Contact us today and give us the opportunity to wow you with our kitchen cabinetry solutions!