Flea Market Finds | Bargain Style Decorating for the Kitchen
Jun 13, 2014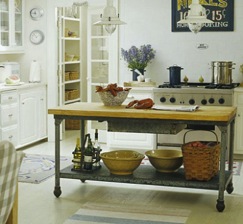 Repurposed items formerly known as recycling, basically means taking one thing and using it for something else (repurpose it).
Example: I found this picture of a re-purposed kitchen island on Pinterest, a great idea for your next project eh? Pictured above is an old stainless steel restaurant prep table turned into a brand new kitchen island. If you want to copy this same design, go to your nearest used restaurant equipment salvage yard (they do exist), and search for the perfect used prep table!
Flea Market Finds: The Secrets Behind the Bargain Style
A creative eye and simple repurposed touches are the secrets to a bargain style. Check out some flea market finds from Better Homes and Gardens, here! Flea market style is not for everyone, but for those that love wandering through previously loved stuff, this style may be for you. No one has to know the past life of these items, keep it a secret!
Rethink before you throw out! You never know what that item could potentially have in store in the future. When bargain hunting, don't have buyer's remorse. Always ask yourself, "Would I be upset if I left without buying the item and came back the next day for it to be gone?"
The secret to finding your personal style is to locate and trust your own gut feelings. We believe everybody is creative and everyone can take the challenge of piecing together great decorative pieces. Confidence is huge, and expressing yourself through these pieces is a true reflection of who we are.
Flea Market Finds in Southwest Florida
Kitchen remodeling is so much more than decorating with flea market finds. If you've got an idea, but need more guidance on remodeling, Cornerstone is here to help! We've been serving Southwest Florida for 26 years and have helped over 16,000 residents remodel their homes. Ready to give your kitchen that perfect look? Contact us today!