Kitchen Backsplash Part I; Stone Lovers
Apr 21, 2015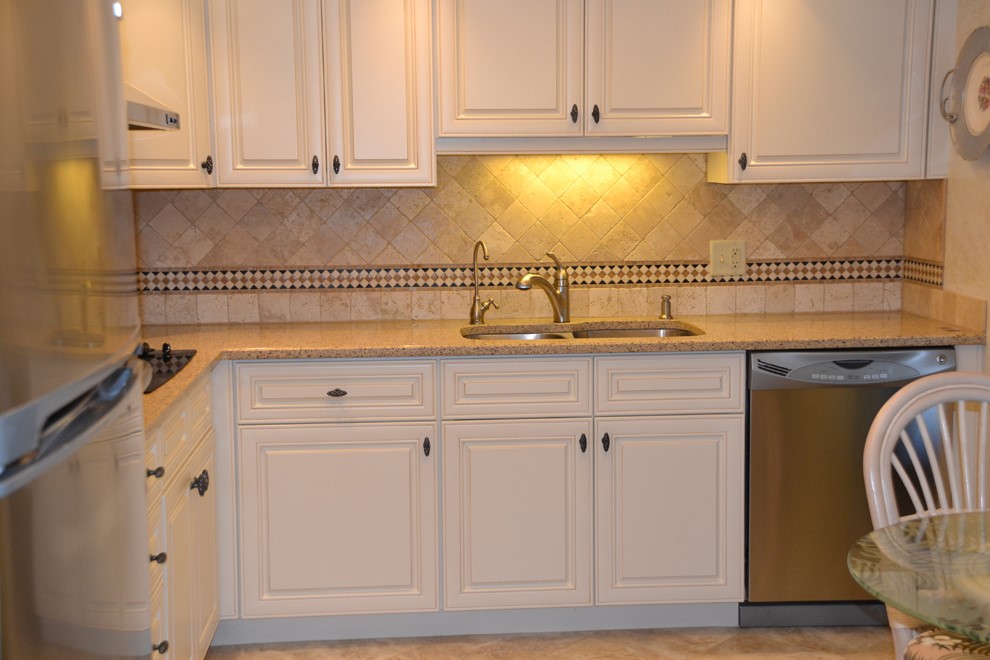 Kitchen backsplashes are no longer purely functional. They are now used to make a statement in the kitchen and act as a cohesive element, helping to tie all elements of the kitchen together, or act as an accent. We found a great article on Houzz with tips from professionals on how to choose the perfect kitchen backsplash. There are plenty of options when it comes to what material is best for your kitchen backsplash. Part I of this two-part mini-series will cover more traditional options for natural stone lovers.
Marble has always been the epitome of kitchen luxury. It scratches more easily than other materials and is porous, requiring regular sealing to repel stains. No two slabs are the same, guaranteeing a unique look for your kitchen backsplash. Marble is a more expensive option and does require maintenance, but its streaking can help hide most stains.
Granite will always give your kitchen backsplash a unique look, as each slab of natural stone is unique, but is also a more expensive option. Choose polished for shine or honed for a matte finish. Remember that honed will show wet marks longer. Granite is very durable, comes in many colors, and is easy to clean as long as it is sealed; sealing is important as granite is porous and will soak up and retain stains.

Engineered Stone (Quartz Composite) is composed of crushed quartz mixed with resin. Many are heat and scratch resistant, and nonporous-so they won't stain and can be easily washed with warm, soapy water. There are a variety of colors to choose from and it comes in large panels, so not many seams (if any) will show in your kitchen backsplash. You can keep cost down by having a matching countertop from the same supplier.
Composite (solid-surface) can include Corian and Hi-Macs, and are usually made from one-third resin and two-thirds natural mineral, allowing them to be molded into angles and curves with no seams for dirt to get into between countertop and kitchen backsplash. Some composites can be scratched and aren't heat resistant (you can't put them behind your stove), like Corian. Luckily, scratches can be buffed out.
Laminate is a less-expensive alternative to natural stone. It offers your kitchen backsplash total flexibility in color and finish and can even look like real wood or stone. They are easy to clean, water resistant, and durable but can't be used behind a gas range due to the open flame. There should be at least a 4 inch gap between laminate and stove.
Explore your kitchen backsplash options with Cornerstone Builders of Southwest Florida. Contact us here today!