Mama Leeber's Family Recipes
Apr 27, 2017
There is no disputing the old saying, "the kitchen is the heart of the home". It is where we share memories, where family recipes are passed down through generations, and where new traditions are created. Our Cornerstone Builders family knows this, and that is why we craft custom kitchens to make the heart of your home as special as the memories you'll create there.
In honor of Mother's Day, we're sharing some of our own family favorites made with love in "Mama Leeber's" kitchen.
Gina's Chicken pot pie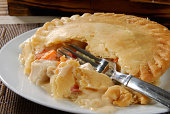 Ingredients
2 roasted chickens skin removed and cut up into small pieces (can get ready made)
4 cups of water
Salt & pepper to taste
2 bags of frozen veggie mix (I use California mix)
2 large onions chopped (small chop)
1 3⁄4 cup of half and half
I tsp of Wyler's instant bouillon granules
2 – 3 tbsp. of flour to thicken
4 refrigerated pie crusts (I use Pillsbury) rolled out to t 9×13 inch pan
Directions
Mix first 7 ingredients in a large pot under a low – medium flame until heated through. Add 2 – 3 tbsp. of flour with equal parts water and stirred until fully combined and no our clumps are seen)
Spray the bottom of a 9×13 inch pan with Pam and Firmly press 2 pie crusts on the bottom of the pan. Pour in chicken mixture and top with remaining 2 pie crusts. Cut a slit in the top and brush the top with an egg wash (2 egg yolks and 2 tsp. of water)
Bake 1 hour at 350 degrees or when nicely browned at the top. (Every oven is different so check after 30 – 45 min)
*may double the recipe for a crowd
Gina's Meatballs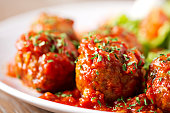 Ingredients
2 lbs. of meatball mix (equal parts beet (chuck) and pork)
4 eggs
4 slices of white bread soaked in a little bit of water and torn into very small pieces
Salt, pepper, and parsley to taste
2 "sashes" of oregano
2 tbsp. finely chopped garlic
1 cup grated parmesan cheese (optional)
Directions
Mix all ingredients well (so you don't see the bread)
Scoop out meat with an ice cream scooper so all meatballs are the same size and roll in the palm of your hand.
Put on a slightly greased cookie sheet or lasagna pan into a 425-degree oven. Bottom shelf – 15 minutes then add directly into a pot of sauce to continue cooking.
*may double the recipe for a crowd
Gina's Sunday Sauce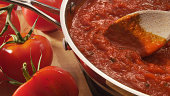 Ingredients
4 cans Crushed tomatoes (I use Tuttorosso)
2 tbsp. butter
1 tbsp. sugar
2 tbsp. red wine
2 tbsp. Olive oil (100% Olive oil – NOT extra Virgin)
Thinly sliced garlic
Salt, pepper, onion powder, garlic powder oregano, parsley (start with half tsp then add to your liking)
Directions
Pour 4 cans of crushed tomatoes in your pot (swirl a little water in each can to get all the tomato out)
Add in all other ingredients.
Simmer on low (do not boil!) 1 hour. Stir often.
Note – You can add in cooked meatballs and sausage to the sauce as well after an hour. Simmer another hour on Low!
Gina's Chicken Soup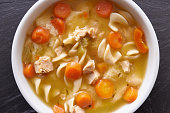 Ingredients
12 cups of cold water (3 quarts)
2 cups of sliced carrots
2 cups of sliced celery
1 small onion (peeled and make a cross at the top)
10 – 15 small meatballs cut in quarters (can buy in the frozen food section)
1 box of chicken broth
2 tbsp. of Wyler's chicken granules
1 cube vegetable bouillon
1 bone in chicken breast
2 – 3 tbsp. of marinara for color and taste
Parmesan cheese for serving
Egg noodles or Orzo (cooked)
Directions
Heat and simmer uncovered until chicken meat falls off the bone (skim off foam every so often).
Season with salt and pepper to taste and serve with egg noodles or pasta (cooked separately)
Gina's Apple Crisp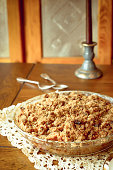 Filling
5 1⁄2 cups sliced apples (approximately 6 apples)
1 tbsp. lemon juice
1⁄2 cup of sugar
1 tbsp. of butter
Mix all together
Topping
3⁄4 cup of flour
1⁄4 cup of brown sugar
1⁄4 cup of white sugar
2/3 cup of softened butter
Mix all ingredients until it crumbles (may add more softened butter if needed)
Pour filling into a buttered 9-inch baking pan and top with topping
Bake in a 375-degree oven 40 – 50 minutes
Reach into your kitchen cabinets, grab those ingredients, and get started baking your home-cooked meal today! For more recipes and cooking ideas alike, follow us on Facebook or subscribe to our YouTube channel.