Countertops, Cabinets, & More: Time for a Kitchen Remodel?
May 03, 2013
Just like fashion, trends change when it comes to your home. What was in style 20 years ago may be less functional and displeasing to the eye. You may be considering a kitchen remodel, but how do you know where to start? How will you know what's right?
Kitchens are the heart of every household and at Cornerstone Builders of Southwest Florida, we understand the daunting decision-making process that comes with remodeling your kitchen. Here, we'll offer a few tips to help you get started on your kitchen remodeling journey!
How Do You Use Your Kitchen?
When you're thinking of remodeling your kitchen, the most important thing is to think about how you use it and how often you use it. Do you enjoy having parties and entertaining guests? Do you have children that may need to have easy access to certain cabinets? Keeping these things in mind will help you create a kitchen that works for you.
Choose the Right Countertop
When considering different kitchen countertop options, how you use your kitchen should come to mind. Should you choose to go with marble countertops, you need to be sure to seal the marble coating to ensure durability. On the other hand, if your heart is set on granite countertops, you can be sure that your kitchen is unique (no 2 pieces of granite are the same). Another option is a solid-surface countertop — these countertops are very durable and come in endless colors.
Consider the Kitchen Colors
Colors in any room are important — this rings even truer for your kitchen. When you choose darker colors, you run the risk of making your kitchen look smaller than it really is. If you decide on going with softer, lighter shades, you can create a more inviting and spacious look. Also, always be sure to utilize natural light to enhance your kitchen's color scheme.
Need Help With Your Kitchen Remodel?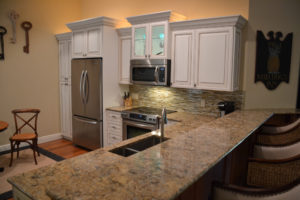 Kitchen remodeling can be tough and your best bet may be to bring in the professionals to help you on your way. Cornerstone Builders has been serving Southwest Florida for 25 years. With showrooms in Naples and Fort Myers, Cornerstone can help with your kitchen remodeling needs!
Whether you're looking to remodel a smaller kitchen to better utilize space or you're looking to turn your kitchen into a space fit for a restaurant, Cornerstone can help! Our designers will be with you each and every step of the way — from the initial in-home consultation to completion of the project. If you need help in choosing what's right for your kitchen remodel, we can help with that, too! We listen to your ideas and turn your dream kitchen into a reality. Also, pay NO DEPOSIT to start!
Are you ready to start your kitchen remodel? Contact us today and we'll be happy to help!